LASIK Surgery in Rochester, NY
Also serving Victor area patients
Laser Vision Correction, LASIK & PRK surgery in Rochester, NY
Main office in Gates, also seeing patients in Brighton & Victor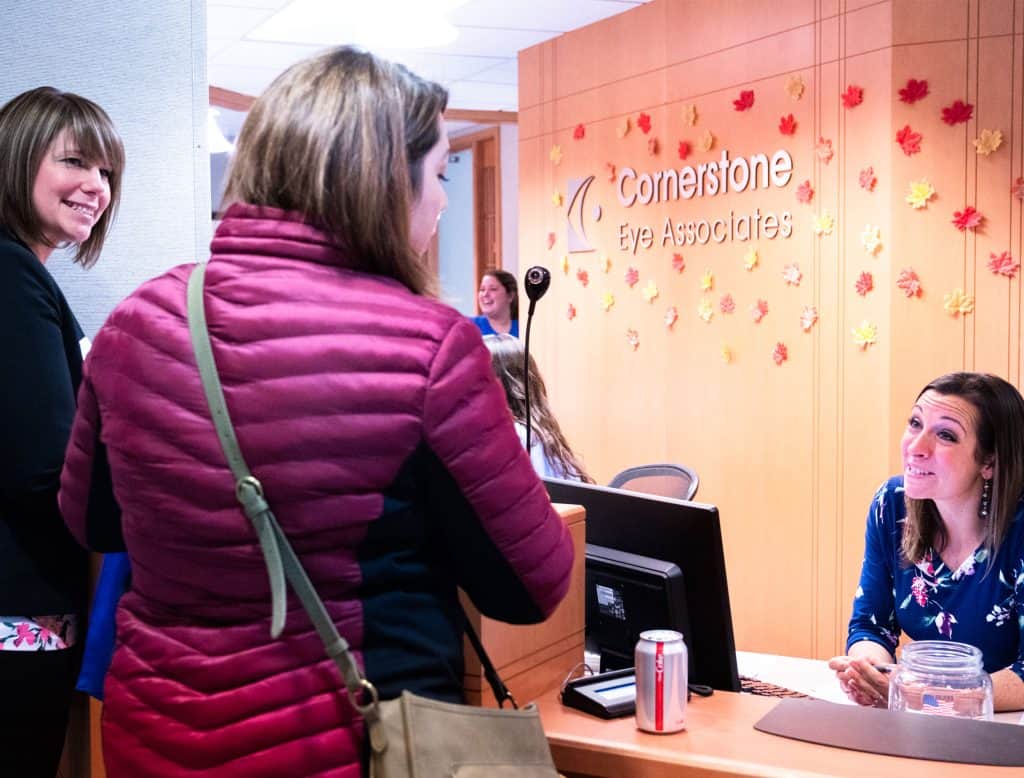 About LASIK at Cornerstone Eye Associates
LASIK, or laser vision correction including PRK, is a procedure that corrects nearsightedness, farsightedness, and astigmatism by reshaping the cornea using the precision of excimer laser technology. It has become one of the most popular forms of vision correction due to its accuracy, safety, quick recovery time, wide range of correction, and minimal discomfort. Often times LASIK provides vision clearer and crisper than what glasses and contacts may provide, especially for those with astigmatism.
At Cornerstone, Dr. Hanuch treats both eyes the same day, and the entire procedure only takes a short time. Following the procedure, you will head home to rest your eyes, nap and we will see you the next day for a short visit to check on your vision. Most of our patients are actually seeing 20/20 or better the very next day!
Correction Options for Reading Vision
As we age, our eyes start to lose the ability to focus up close. Typically at some point in our 40s we start to reach for reading glasses for help. Although standard LASIK cannot correct both distance and near vision, Cornerstone Eye Associates is proud to offer options for those who want independence from glasses both near and far. 
KAMRA Inlay
Cornerstone Eye Associates is proud that we were the first to offer the groundbreaking KAMRA Inlay in Rochester, NY. This procedure allows Dr. Hanuch to correct near vision with a small lens that is inserted into the cornea during an in-office procedure. This option can be used in conjunction with LASIK to also correct distance vision allowing patients more independence from glasses for most of their daily activities.
MonoVision LASIK
MonoVision LASIK is another option for those patients wanting improved vision for distance and up close. During this procedure, Dr. Hanuch corrects one eye for distance clarity and the other eye focused at near. This approach works best for patients who have been successful MonoVision contact lens wearers in the past. However, many patients have chosen this option after a MonoVision contact lens trial for one-two weeks.
Advanced Technology for Optimal Results
At Cornerstone, we are committed to investing in the most advanced vision correction technology. Not only does the technology we house at our permanent, on-site laser suite in Gates correct astigmatism, nearsightedness and farsightedness but also our laser technology has features that allows Dr. Hanuch to treat corneal irregularities, like irregular astigmatism, that other platforms cannot.
Not only does our technology allow for a fully personalized, custom LASIK treatment, but we also incorporate laser technology for blade-free LASIK. With the accuracy of a computer-controlled, cool beam laser, all-laser LASIK offers a safer and more predictable approach to laser vision correction in Rochester, NY.
LASIK Cost and Affordability
LASIK Value
We are committed to providing you with the highest quality LASIK vision correction at the best value in the region considering our technology and quality of care. We have only one global fee for any level of correction that includes all pre and postoperative care, follow-up visits and only our best technology. Our patients never have to choose between the best technology or care for a lesser price.
Financing
Financing is a popular choice for many LASIK and PRK patients. Cornerstone Eye Associates is proud to offer financing plans to fit almost any budget including interest free for up to 24 months through CareCredit.
Apply Now
Flex Plans
A Flexible Spending Account (FSA) or a Healthcare Savings Account (HSA) is offered by many employers allowing you to set aside a certain amount of your paycheck before taxes to cover medical expenses not covered by insurance. The great news is this money can be used to pay for laser vision correction and can save you up to 30%. The best part is you can use any amount from your account towards the procedure, whether you have $200 or $2000.
The Cornerstone Eye Associates Difference
Experience
For many, having LASIK can be a wonderful, life-changing experience. However, your quest to find the right LASIK center should not be taken lightly. The perfect combination of surgeon and technology will lead to excellent results. While some centers may come and go, Cornerstone Eye Associates has been an established comprehensive eye care practice in our community for over 50 years. In addition, for more than two decades, Omar Hanuch, MD has performed thousands of refractive procedures right here in Rochester.
Real Results, for Real Patients
Whereas the average surgeon's LASIK results across the US has been reported at 91.5% of patients seeing 20/20 post-correction; up to 98% of Dr. Hanuch's nearsighted patients see 20/20 or better after their first treatment!
Exceptional Patient Care
Cornerstone Eye Associates is not just a LASIK center. As a comprehensive eye care practice, the complete health of your eyes is our first focus. Your initial LASIK consultation is one of the most comprehensive exams you will ever have. Whether you see Dr. Hanuch, Dr. Chaisson or Dr. Mara Tresansky, we will take the time to discuss your visual goals for work, family life, social and sporting activities as well as thoroughly examining your eyes. If we discover laser vision correction is not the best option to correct your vision, we have various other treatments we can recommend to help you achieve the vision you are dreaming of.
Our LASIK team is ready to answer your questions or schedule your FREE, no obligation LASIK consultation at our Gates, Brighton or Victor locations.
Please feel free to contact our LASIK department directly at 585-420-8158.