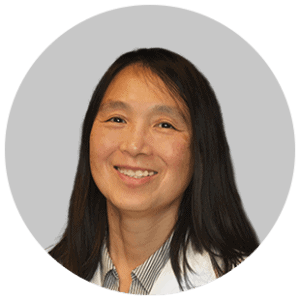 Ying Qian, MD, PhD
Ying Qian, M.D., Ph.D. completed an ophthalmology residency at the University of Rochester Medical Center, and a Cornea and Refractive Surgery fellowship at the Massachusetts Eye and Ear Infirmary of Harvard Medical School. Dr. Qian is board certified by the American Academy of Ophthalmology.
Her clinical interests include cataract, advanced intraocular lens technology, corneal diseases & transplants, LASIK refractive surgery, and comprehensive eye care. She performs surgery at Cornerstone Surgery Center, Brighton Surgery Center, and Rochester General Hospital Surgery Center. She has medical staff privileges at Strong Memorial Hospital and the Rochester Regional Health Systems, where she is also actively involved in resident teaching.
In addition to the clinical work, Dr. Qian conducted corneal transplantation research at the Schepens Eye Research Institute. She published her original work in peer reviewed medical journals such as Cornea Archives of Ophthalmology, and Investigative Ophthalmology & Vision Science.
She is a member of American Academy of Ophthalmology, American Society of Cataract and Refractive Surgery, and International Society of Refractive Surgery.
Go Back