About LASIK Surgery
Laser Vision Correction, LASIK & PRK in Rochester NY
LASIK (Laser-Assisted In-Situ Keratomileusis) is a safe, reliable and painless way to improve vision and reduce or eliminate the need to wear glasses or contact lenses. LASIK changes the way light is bent, or refracted, as it passes through the cornea so that it focuses properly on the retina and objects can be seen clearly.
During the procedure, a femtosecond laser creates a thin flap in the surface of the cornea. The flap is then lifted and an excimer laser beam reshapes the cornea's curvature customized to your eye and your eyes' irregularities to improve your vision. The flap is then repositioned and the healing begins immediately.
The entire procedure takes only 15-30 minutes per eye, and patients are often ready to leave within an hour or two. The eye heals on its own within a few days.
Steps of Laser Vision Correction
STEP ONE
A corneal flap is created with the precision of a laser and lifted.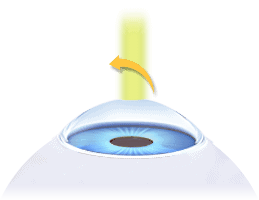 STEP TWO
An excimer laser reshapes the cornea.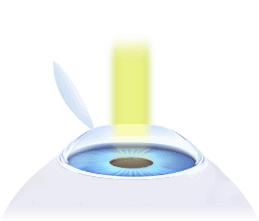 STEP THREE
The flap is replaced and healing begins immediately.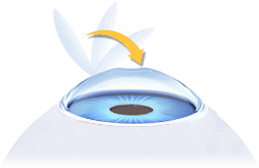 Some common complaints after surgery include light sensitivity, glare or halos in dim lighting, and dry eyes. These are typically temporary and will subside within a few weeks. Antibiotic and anti-inflammatory drops will be prescribed along with artificial tears to keep your eyes healthy and comfortable.
About PRK
In LASIK, the first step is to create a corneal flap using a laser. Next, the laser is used to reshape the cornea underneath the flap and it is gently replaced. This flap acts as a protective bandage to aid in the healing. With PRK, no flap is created and instead, a small layer is removed and the laser is used to directly treat the front surface of the eye. The goal for both procedures is to correct nearsightedness, farsightedness, and astigmatism. During your consultation, our doctors will discuss which procedure is the best fit for you as well as the advantages and disadvantages of each procedure which may vary depending on the individual.
Alternatives to LASIK
Fortunately, you came to the right place. Cornerstone Eye Associates is more than just a LASIK center, we are also a comprehensive advanced surgical ophthalmology practice. If LASIK isn't the best procedure to help you achieve your visual goals, we have many other options available including Clear Lens Exchange, ICL and more. We will discuss which procedure is best for you during your free consultation.
Near Vision Correction
Our LASIK team is ready to answer your questions or schedule your FREE, no obligation LASIK consultation at our Gates, Brighton or Victor locations.
Please feel free to contact our LASIK department directly at 585-420-8158.